Welcome to our world
Situated in one of the prettiest buildings in the Old Galt section of Cambridge, Ontario, Canada, our goal is to inform, educate and entertain our visitors in the hope they will come back again and again. The Fire Hall Museum & Education Centre is a not -for-profit organization, run by a community-based board of volunteers.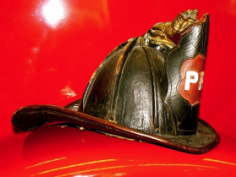 A noble past and bright future
Architect Fredrick Mellish would be proud to know the fire hall he designed and built in 1898 for the City of Galt lives on today as the Fire Museum and Education Centre.
The ground floor has seen many changes since the days of the horse drawn fire reels that first occupied this space. It's now the museum's main gallery featuring vintage fire equipment and various displays.
The upper level were the firefighters' living quarters until the fire hall was closed in 1979, This space is now the fire safety education centre, meeting rooms, library and archives.
What child never dreamt of someday becoming a firefighter? For them we have one of the largest collections of toy fire engines found anywhere, along with a fire truck, hose reels and even real firefiighters to talk to. For the adults the museum has a vast collection of artifacts from around the world, which provide a broad view of the evolution of the fire service from the industrial revolution to today. For researchers the museum offers a rich archives filled with thousands of photographs, a vast collection of video tapes, document and computer files as well as the Cambridge Fire Department library.
The education centre is used by students of all ages to learn
about fire, water, electrical safety and more. The education centre is also used by area fire departments and Conestoga College to educate new recruits about the history and development of the fire service. Through a partnership with Conestoga College the old fire hall has also helped to train a new generation of construction project managers. It is also available for corporate and union training sessions as well as company and private functions.
For further information about the Fire Museum and Education Centre email info@firehallmuseum.ca or call (519) 621-1144.
---